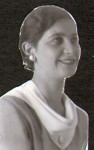 var _gaq = _gaq || []; _gaq.push(['_setAccount', 'UA-24471021-1']); _gaq.push(['_trackPageview']);
(function() { var ga = document.createElement('script'); ga.type = 'text/javascript'; ga.async = true; ga.src = ('https:' == document.location.protocol ? 'https://ssl' : 'http://www') + '.google-analytics.com/ga.js'; var s = document.getElementsByTagName('script')[0]; s.parentNode.insertBefore(ga, s); })();
8/17/34
My Dear Lazywriters:
You complain that I do not write often enough and I have not heard from you in 2 weeks.
This is letter #13* and should be a lucky one. Last Sunday I was again with Hans in the Dunes. As always it was beautiful. Except the flies were pestering us a lot so we could not take our usual afternoon nap.
In the evening we went again to the concert at The Fair. Since they had a terrific guest conductor that evening all the seats were taken already 1 hr before start! It was a fabulous Wagner concert. The concerts are always in the open similar to Ffm's [Frankfurt's] Palmengarten. Only that there are seats for about 1000 people and no admission charge. This evening at least another 500 or 1000 people were standing around or sitting on the grass.
Do you know why the U.S.A. is called a "free" country? Everybody is free to do as he pleases, decent or indecent. Nobody cares what the other one is doing. People sit anywhere. It is a joke how old young, big and small, heavy and skinny, men and women and children sitting there between the bushes. And when it rains like it did on Wednesday, men and women wear the same thin rubber capes. Only foreigners notice that.
The police do not care if cars pass each other on the right or on the left side and so on. No man gets up on public transportation if there is no seat left for a woman. But they know exactly on which side of a woman a man should walk.
Just a year ago I learned in Wiesbaden how to eat properly with fork and knife. Now I have to learn all over the opposite. Here one cuts the meat, puts knife on the side, takes the fork in the right hand, eats like a little child using rolls or bread as a pusher.
They eat bread and butter with everything. Even people from nice Jewish homes eat kosher sausage sandwich and drink milk with it. I have not tried that yet altho at the Fair the kosher sausage stand and the milk stand are right next to each other. Instead I have eaten several times "hot dogs," Frankfurter würstchen on a bun the same size. That is another favorite national meal.
Since my last letter I was again 2 times at the Fair. I like it so much there.
Yesterday I had a letter from Herbert Pohl. He has been transferred to N.Y. He will get in touch with me if he comes back to Chicago.
The main event — I am almost at the end. Yesterday I received my 1st papers.** That pleasure cost me besides $5–2 hrs work time. I was to be there at 10:30 a.m. Left work at 10:00 after working 1 hr.
I did finally return to my job at a few minutes after 12:00 but was not allowed to work because everybody has to stop between 12:00 and 1:00. Orders from the N.R.A. "National Recovery Administration." If an inspector would come and see me work, the bosses would be fined. So I just made some little wool dolls.
Dear Papa, would you please ask Isi Gutman where I can get a subscription to Bayer's Needlework Magazine. I can not find an address and Rose Seckbach would very much like to subscribe to it. She does a lot of beautiful needlework. This summer she was crocheting gloves and earned nice money with it. Almost all women here help their husbands earn money. No matter how little.
Rose's husband foolishly sold his good going cigar business 2 yrs ago and has not found any other work.
Last week I met a newly married couple from Berlin. The only people they know from Ffm were Betty and Rudy Feitler.
Monday I had again a date with my friend who has a car and owns a restaurant. He did not pick me up until 10:00 p.m. so I had a nap before we went out. We went to a nice Road House for a delicious steak dinner and dancing. But the place is so far out you can get there only by car. He likes to eat in other places instead of his own restaurant.
Yesterday I went for a change to a movie. "Private Scandal." Funny and exciting. Usually I like the extra films better — usually something with Mickey Mouse or like yesterday a tour of the vacation spots of the stars. He claims he understands everything I say in my bad English. It is getting better all the time.
What about your vacations Doddo and Ernale? I sure thought a lot of you Doddo when we had a bad thunderstorm a few nights ago. I hope to write a few more letters tonight. So it will get late again.
Greetings to everybody.
Loads of love and kisses.
p.s. please excuse my mixed up writing and bad spelling but my mind seems to be always 3 sentences ahead of what I am writing.
---
* Actually, this is at least the 21st letter in the collection, perhaps this is the thirteenth to her sisters.
**For citizenship or permanent residence.
A contemporary source for Continental and American table manners is available in this article http://ugacareercenter.wordpress.com/2010/09/27/how-to-score-big-with-proper-etiquette/
Shortlink to this post: http://wp.me/p1yA95-2V