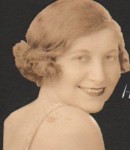 Trudel Adler, my mother, came to the United States 1934 when she was 21 years old. She frequently wrote long letters home to her family in Germany and asked them to save her letters and they did — over two hundred handwritten pages.
Trudel was an amazing young woman who grew into a fascinating warm wonderful woman, mother, grandmother and great-grandmother. She was funny, serious, forthright, and considerate. She worked hard all of her life and gave to the world more than she ever got. The tale of the rest of her life was full of challenge,sadness and joy. These early years are more than that. They reveal the strength of character, the chutspa, the love, that helped her through all those years. Preparing her letters for this blog has been like entering a conversation with her and getting to know the young woman I never met.
Trudel as in Strudel
When asked how to pronounce or spell her name, Trudel, would reply, "Trudel, as in strudel." She always said the "s" in strudel was for sugar and she was sweet enough without it. But all was not sweetness and light. In 1933, Trudel wrote in her diary, "There is no future for Jewish youth in Germany. I think I shall go to Palestine."
On May 8, 1934 she sailed for the United States. What happened next is told in her letters which are posted here on the anniversary dates of their original posting.
Here is a link to the most recent post:
Register to receive notices when new posts are added to this blog by completing the field below the Subscribe2 button on the side bar to the right.
For more information about this blog visit the About Trudel's Truth.
To find suggestions to make getting around this site more enjoyable visit our Navigation page.
News about Trudel's Truth